The 2023 Spring thaw is well underway! Water on the Mississippi Pool 4 is on the rise!
Launched out of Colville Park Red Wing around 5 a.m., one dock is in and the ramp is in good shape. Started the morning idling through the No Wake zone, watching the many flights of ducks overhead. First cut was a go from the start, lots of smaller male walleyes on the sand. Pitching Curlytail Flukes and our Ringer Paddletails was the ticket. Tons of Shad at the entrance and lots of hooks set on Shad-bumps, even snagged a couple.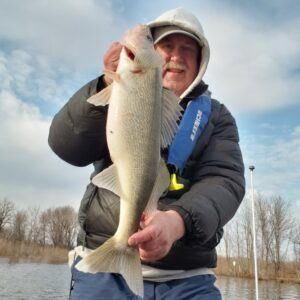 Next stop High Bridge and a current seam, lost one and that was it! After a hot start things slowed down. My next spot produced four walleyes and a few misses. Headed towards the dam area just to see how many boats … if you were there you know, busy!
Water temp was 39.8 degrees. Make sure you have all your boat safety equipment, throwable cushion, life jackets, fire extinguisher paddle, anchor, whistle, registration and fishing license. Today I seen the WI DNR running a beautiful Warrior.
Have fun and be safe.
Capt Tim
P.S Baypoint launch is open as of today.